Please Notify Your Server of Any Food Allergies
20% gratuity to be added to parties of 5 or more
Antipasti
CARPACCIO
Thinly sliced raw beef, arugula, red onions, capers, lemon & mustard aioli
topped with shaved Grana Padano and olive oil drizzled on top 18.25
SPARATUTTO DI OSTRICHE
Blue Point oyster shooters with balanced house-made cocktail of
tomato juices & spices 3.00 ea
OSTRICHE ASIAGO
Blue Point oysters baked with fresh spinach & asiago cheese 24.50
CALAMARI FRITTI
Fried calamari & lemon with creamy Caesar &
roasted pepper dipping sauces Grande 22.95
BRUSCHETTA SAPORITA
Grilled sourdough bread with tomatoes, garlic, extra virgin olive oil & basil 14.25
POLENTA AL FORNO con FUNGHI
Grilled polenta smothered with a reduction of mushrooms,
Madeira & veal stock 14.25
FUNGHI AL FORNO
Portobello mushrooms brushed with olive oil, herbs & garlic roasted
in the wood burning oven 14.25
FONDO DI CARCIOFO CON GAMBERETTI
Prawns, avocado, artichoke bottoms, hearts of palm, cilantro with our
house-made herb dressing and butter lettuce on the side 17.50
Insalate E Minestre
ZUPPA DI MINESTRONE 8.95
INSALATA DELLA CASA
Butter lettuce with house-made herb dressing 9.95
INSALATA DI CAESAR
Romaine, house-made Caesar dressing, garlic croutons, shaved Grana
& white or brown anchovies upon request 12.75
INSALATA DI CIYA
Spring mixed greens topped with avocado, papaya, pear & feta cheese
in a balsamic vinaigrette 22.95
Pizze "00" Napoletan
Wood-Fired
HAND-MADE, THIN CRUST
NAPOLETANA
Pomodoro, mozzarella, fontina, parmesan, garlic & oregano 19.50
MARGHERITA
Fresh tomatoes, mozzarella, parmesan, garlic & basil 19.50
PEPPERONI
Olli Salumeria pepperoni, fontina cheese & tomato sauce 19.50
SALSICCIA
House-made sausage, pomodoro, mozzarella, garlic & parmesan 19.50
Risotto
RISOTTO PRIMAVERA
Carnaroli rice with saffron, vegetables, and parmesan cheese 27.50
Pasta
CAPELLINI AL POMODORO E BASILICO
angel hair pasta with tomatoes, basil & garlic 28.50
TORTELLONI AL PROSCIUTTO
stuffed pasta in a cream sauce with prosciutto & peas 29.50
PENNE AL PESTO
Basil, garlic, cream, cheese, walnuts, pine nuts & sun-dried tomatoes 29.50
SPAGHETTINI CON POLPETTE DELLA NONNA
Spaghetti with grandmother-style meatballs simmered in marinara sauce 29.50
PANSOTTI CON CREMA DI NOCI
Ravioli – cheese stuffing in a walnut cream sauce 29.50
PAPPARDELLE AL PEPE NERO
Flat pasta made with black pepper served with sun-dried tomatoes,
shallots, mushrooms & Chianti 29.50
MIA SANDRA'S SPAGHETTINI ALLA CARBONARA
Pancetta, cream, egg, garlic & parmesan cheese 29.50
LINGUINE ALLE VONGOLE
Rosso/tomatoes, clams & garlic OR Bianco/cream, clams & garlic 29.50
GNOCCHI
House-made gnocchi (potato dumplings) made with parmesan cheese &
served with either Bolognese or vodka sauce 29.50
CANNELLONI
Crêpes stuffed with chicken, pork & veal in a light cream sauce with
fontina cheese, tomato & garlic 29.50
Entrées
MELANZANA AL FORNO
Eggplant baked with spinach, cheese & pomodoro sauce (olives by request) 27.50
PETTO DI POLLO ALLA GRIGLIA
Grilled chicken breast paillard on sautéed spinach
with roasted vegetables 29.50
BATTUTO DI CALAMARI ALLA MUGNAIA
Calamari steak sautéed with lemon butter cream sauce & served with
risotto & green beans 32.50
PETRALE SOLE
Pomodoro - sautéed with tomatoes & garlic served with
risotto & green beans
Piccata - sautéed with lemon, capers & cream served with
risotto & green beans 37.50
GAMBERONI AL LIMONE
Prawns sautéed with lemon, garlic, shallots & cream served with
risotto & green beans  36.50
POLLO/VITELLO PICCATA
Grilled chicken or veal medallions sautéed with lemon, capers &
cream served with scalloped potatoes & green beans 32.50/39.50
POLLO/VITELLO MARSALA
Chicken breast or veal sautéed with marsala wine, shallots,
mushrooms & served with scalloped potatoes & green beans 37.50/39.50
POLLO/VITELLO ALLA PARMIGIANA
Chicken breast or veal baked with Monterey Jack & parmesan
cheeses in a pomodoro sauce served with scalloped
potatoes & green beans 37.50/39.50
POLLO/VITELLO ALLA MILANESE
Chicken breast or veal lightly breaded & prepared with
lemon caper butter sauce OR served with arugula salad,
dressed with house-made Italian vinaigrette 37.50/39.50
SCALOPPINE DI VITELLO CON FUNGHI
Veal medallions with mushrooms & served with scalloped
potatoes & green beans 39.50
MEDAGLIONI DI MAIALE
Generous portion of pork tenderloin medallions with port wine
reduction & apple confit with raisins & served with
scalloped potatoes mint sauce 36.50
Please Notify Your Server of Any Food Allergies
20% gratuity to be added to parties of 5 or more
Dessert
VANILLA PANNA COTTA
Cooked cream served with blueberry sauce 8.95
TIRAMISU
lady fingers dipped in brandy & espresso coffee and mascarpone cream 8.25
SICILIAN RICOTTA CANNOLI
chocolate pastry shell filled with ricotta cream, dark chocolate, & pistachios 8.95
CHOCOLATE MOUSSE
a slightly lighter version, served with freshly made whipped cream and
garnished with grated dark chocolate, served in chocolate cup 8.25
CHOCOLATE MOUSSE CAKE
Two-layer chocolate mousse cake with caramel sauce 8.25
CHEESECAKE
New York-style cheesecake topped with raspberry sauce 9.95
BUDINO di PANE CALDO
warm bread pudding served with brandy sauce and vanilla bean gelato 7.50
GELATO
Fiorello's Italian ice cream, various flavors 7.95
COURVOISIER V.S.
11.50
HENNESSY V.S.O.P.
13.50
MARTELL CORDON BLEU
30.00
REMY MARTIN V.S.O.P.
16.50
SAMBUCA
11.00
COFFEE
Regular / Decaf
3.25
HOT TEA
Mighty Leaf, Full Leaf Tea, 9 flavors
4.50
ICED TEA
Summer Solstice — OR — Wild Berry Hibiscus
4.50
CAFFE ESPRESSO
3.95
DOPPIO ESPRESSO
4.50
CAFFE LATTE
4.95
CAPPUCCINO
4.95
CAPPUCCINO CON VOV
7.90
- Please Notify Your Server of Any Food Allergies
- 20% gratuity to be added to parties of 5 or more
- Corkage $20 / 2 Bottle limit (750 ML) / Full Price if in Carpaccio inventory

Dom Perignon, 2012$310.00
Domaine Carneros, Taittinger, Brut, 2018 $55.00
Chandon, California, Brut, 187ml $14.00
Piper Heidsieck, Brut $70.00
Mumms, Napa Brut Prestige $50.00
Le Ombre, Barbera Piedmont, 2019 $12.00
Woodside Vineyards, Santa Cruz Mountains, 2019 $13.00 /$45.00
Stonestreet Estate Vineyards, Alexander Valley, 2017 $55.00
Miner, Napa Valley, 2019 $64.00
Honig, Napa Valley, 2019 $75.00
Rosati, Mendocino County, 2013 $23.00 / $80.00
Cakebread Cellars, Napa Valley, 2019 $100.00
Silver Oak, Alexander Valley, 2019 $110.00
Chateau Montelena Estate, Napa Valley, 2019 $165.00
Peter Michael, 'Les Pavots' 2018 $265.00
Terrazas de los Andes, Reserva, Mendoza Argentina, 2020 $14.00 /$45.00
Portlandia, Oregon, 2021 $13.00 /$42.00
Belle Glos, Clark &Telephone, Santa Maria Valley, 2021 $16.00 /$65.00
Siduri, Willamette Valley, 2021 $60.00
Cherry Pie, San Pablo, Carneros, 2021$75.00
Flowers, Sonoma Coast, 2021 $80.00
Byington, Alexander Valley, Tin Cross Vineyard, 2019 $13.00 / $40.00
Matanzas Creek Winery, Sonoma County, 2019 $55.00
Duckhorn, Napa Valley, 2019 $85.00
Stags' Leap, Napa Valley, 2018 $60.00
La Lomita, Slide Hill Vineyard, 2019 $64.00
Balletto, Russian River Valley, 2020 $14.00 /$45.00
Rombauer Vineyard, Napa Valley, 2019 $19.00 /$60.00
Ridge Vineyards, Lytton Springs, Dry Creek Valley, 2018 375ml $40.00
Ridge Vineyards, East Bench, Dry Creek Valley, 2021 $64.00
Brown Estate, Napa Valley, 2021$70.00
Turley, Old Vines, California, 2020 $70.00
Liano, Umberto Cesari, 2017 $50.00
Acinum Amarone, Della Valpolicella, 2017 $70.00
Costa di Bussia, 2017 $60.00
Marchesi di Barolo, 2017 $90.00
Gaja, Dagromis, 2018 $125.00
Carlo Giacosa, Montefico 2014 $70.00
Gaja, 2014 $225.00
Antich Cantine, 2016 $80.00
Gaja, Sito Maresco, Langhe, 2017 $100.00
Machiavelli, Classico, 2013 $50.00
Ruffino, Riserva Ducale, Classico, Gold Label, 2018 $80.00
Tenuta di Arceno, Chianti Riserva, 2020 $14.00 /$55.00
Modus, Ruffino, 2019 $15.00 /$50.00
Il Paggione, 2020 $45.00
Edna Valley, San Luis Obispo, 2021 $10.50 /$32.00
Rombauer Vineyards, Carneros, 2022 $65.00
Woodise Vineyard, Santa cruz Mountains, 2020 $14.00 / $45.00
Far Niente, Napa Valley, 2022 $22.00 / $75.00
Chalk Hill, Chardonay Sonoma Coast, 2022 $15.00 / $55.00
La Lomita, Rosemary's Vineyard, Arroyo Grande, 2019 $20.00 / $65.00
Whitehaven, Marlborough, New Zealand, 2022 $13.00 / $40.00
Matanzas Creek Winery, 2022 $14.00 / $43.00
Barone Fini, Alto Adige, 2022 $13.00 / $43.00
St. Michael-Eppan, Sudtirol – Alto Adige, 2022 $40.00
Santa Margherita, Alto Aldige, 2022 $50.00
Domaine Les Beaux Regards, 2022 $17.00 / $60.00
Balletto Rose, Russian River Valley, 2021 $14.00 / $43.00
Albertoni, Coastal Ridge Zinfandel, 2019  $8.00 / $20.00
Spirits/Bar Menu
Sparkling Wine, Aperol & Soda $14.00
Bourbon, Sweet Vermouth & Campari Rocks $11.00 / Up $14.00
Patron Silver, Grand Marnier, Fresh Lime Juice & Sweet & Sour $13.00
Herradura Silver, Guilt-Free Margarita, Fresh Lime Juice & Touch of Fresh Grapefruit $12.00
Served on the rocks or up in beautiful copper mugsRocks $11.00 / Up $14.00
Bacardi, Fresh Mint, Sugar, Lime Juice & Soda $13.00
Beefeater, Campari & Sweet Vermouth $13.00
Blanton's bourbon, fresh lime juice & ginger beer $14.00
Teremana blanco tequila, Campari, Triple Sec & fresh grapefruit juice $14.00
Pinot Grigio, Aperol & soda $13.00
Woodford Reserve bourbon, angostura bitters, simple syrup & fresh mint $13.00
Malibu Rum, cranberry juice & Pineapple juice $12.00
Bulliet Rye Whiskey, smoked honey, lemon twist $13.00
For Our Beer Lovers...
Let us introduce Shadow Puppet Brewing located in Livermore, Ca. Enjoy these wonderful 16oz beers on a hot summer day or anytime, really.$8.00
West Coast Style Triple IPA bursting with amazing hop flavor. Slightly malty sweetness.
Crisp & bright, this light golden Pilsner brewed with noble Haller au hops is refreshing & satisfying with floral undertones.
Lupi - IPA brewed with blood orange puree, adding a fresh burst of rich citrus on the nose and flavor profile.
A classic American pale ale, showing Citra & Simcoe hops used in the whirlpool & dry hopping phases. Pairs nicely with a wide range of foods such as pizza and burgers.
Hazy-style IPA with low bitterness, bringing to strong citrus notes to the foreground.
A light, refreshing and flavorful blonde ale crafted with a blend of American hops, lending notes of citrus and melon.
Stella Artois, Peroni, Moretti (Italian), Heineken, Lagunitas IPA, Non-alcoholic beer, St. Pauli, Sierra Nevada.$6.00
Poured in the acclaimed Schlanke Stange glass 12 oz.$6.00
Please Notify Your Server of Any Food Allergies
20% gratuity to be added to parties of 5 or more
We know there may be hundreds or thousands of bourbons in the US, so we'll present to you the most popular and most recognized by the bourbon writers. Let your server know how you drink your favorite bourbon: rocks, neat, straight up or in a cocktail. Also, our special tequilas are listed in the next section. Please check it out. Enjoy!
– Jose Luis Reyes, Spirits & Wine Director
---
1792 Full Proof Bourbon
Let us present to you our 1792 full proof bourbon – the 2019 San Francisco World Spirits competition, Double Gold Medal winner and 2020 World Whisky of the Year.
Exceptionally distinct flavor. Type/Region: Bourbon/Kentucky, USA
Alcohol: 62.5% Composition: 74% corn, 18% rye, 8% barley Aged: ~7-8 years in virgin American white oak. $20.00
Mixed Drinks: $2+
Ángels Envy
Maple syrup, vanilla, toasted nuts, spices. Smokey undertones, ripe fruit, chocolate,creamy vanilla, spices with sweet, candied notes of tangerine. Clean, lingering, smooth, silky finish with a hint of Madeira. $13.00
Basil Hayden
Charred oak flavor that is complemented with sweet brown sugar, a touch of blackpepper and dried fruit to round it out. $12.00
Bulleit
Medium amber in color with gentle spiciness and sweet oak aromas. Mid palate is smooth with tones of maple, oak, and nutmeg. Finish is long, dry, and satiny with a light toffee flavor. $13.00
Blanton's Special Reserve
Kentucky straight bourbon whiskey. Spiced grainy sweetness. Buttery, fruit tang, light, balanced, gentle spices, toffee. Medium length. $30.00
Blanton's
The taste profile is sweet with notes of citrus and oak. The creamy vanilla nose is teased with caramel and butterscotch, all underscored by familiar baking spices such as clove, nutmeg, or cinnamon flavor. (Best served neat or on the rocks). $17.00
Balcones
Toasted oak and honey crisp apples on the nose followed by notes of kettle corn, graham cracker and oiled glove. Honeyed flavors with sweet cream, candied pecans, leather and sandalwood. $12.00
Bulleit Rye
Russet in color with rich oaky aromas. The taste is exceptionally smooth, with hints of vanilla, honey, and spice. Finish is crisp and clean with long, lingering flavors. $13.00
Elija Craig
Vanilla, caramel, nut, and oak pop out from the start. Sweet and light at first, these flavors slightly intensify with time in the glass. On its own, the nose is slightly above average and enjoyable, but also quite simple. $11.00
Four Roses
This bottle has a remarkable amount of caramel in it with a strong rye presence sitting shotgun. Cinnamon, dark fruit, a light citrus and a slightly floral character are the chief backseat drivers in this buggy. Tied up in the trunk is a bit of vanilla. $13.00
Garrison Brothers
Subtle nose of golden delicious apple meat and honey. Sweet floral verbena, fresh cut grass, saddle leather, cinnamon, and honey. Springtime flavors of honeysuckle and orange candy, yellow pound cake, baking spices, lemon gumdrops, and sugar cookies. Long and engrossing finish. Complex. $15.00
Canadian Club (42 years old)
Palate: Sweet with caramel, brown sugar, a touch of maple candies with a hint of lemon, gentle cinnamon and pepper spice. Finish: Moderately long with notes of caramel and pepper spice. Comments: This is a soft and gentle dram, squarely in the Canadian Club family style. $26.00
Eagle Rare
The nose is complex with aromas of toffee, hints of orange peel, herbs, honey, leather and oak. The taste is bold, dry, and delicate with notes of candied almonds and very rich. $11.00
Eagle Rare 10 year
The nose is complex with aromas of toffee, hints of orange peel, herbs, honey, leather and oak. The taste is bold, dry, and delicate with notes of candied almonds and very rich cocoa. The finish is dry and lingering. $14.00
High West
A big nose of cinnamon stick, cloves, vanilla, peppermint, caramelized sugar and dried fruit taste: very spicy, with cinnamon, crisp mint and fennel, underlying sweets notes of caramel, molasses, vanilla, macaroon, cocoa, and candied fruit. $13.00
Knob Creek
Mashbill: 75% Corn, 13% Rye, 12% malted barley Thick caramel, oak, lightly toasted marshmallow, and a hint of vanilla greet you. Knob Creek manages to hide its proof well as very little ethanol is present. The scents are bold and rich, presenting a great way to start the sip. $13.00
Long Branch
This bourbon is carefully distilled at the Wild Turkey Distillery in the US and is adored for its caramel, spicy syrup, and smoky flavor notes. $13.00
Barrell Bourbon
Cinnamon donuts lead into earthy notes of walnut, leather & fallen leaves. Subtly fruity with hints of white currant & honeydew melon peeking out over the classic rye. $14.00
Buffalo Trace
This deep amber whiskey has a complex aroma of vanilla, mint, and molasses. Pleasantly sweet with notes of brown sugar & spice that give way to oak, toffee, dark fruit and anise. $10.00
Maker's Mark
Hand-dipped and signature red wax in Loretto, KY. Notes of vanilla, caramel, brown sugar and even a bit of strawberry are present. It's a surprisingly strong scent for a 90-proof bourbon. $13.00
Old Elk
Honey-forward nose with a citrusy background and lovely notes of vanilla, toffee, spice and oak. Bold corn flavor complemented by touches of caramel, oak, vanilla, and fruity notes. $12.00
Rare Breed
Corn, vanilla, and apricots with a bit of pepper spice and oak. Served neat, it's spicy like a Rye, but add a little water and it blooms with sweetness, orange, and tobacco. $14.00
Hickory Hill
Kentucky Straight Bourbon Whiskey aged for 3 years in new, charred-oak barrels and distilled with the finest ingredients to create a smooth, full Bourbon character. Rich and mellow with flavors of spice and oak followed by a hint of vanilla. $11.00
Whistle Pig Rye
Smells a little bit like honey and then vanilla and butterscotch appear next, followed by pine and peppermint that is expected from rye. It has a unique smell among rye whiskeys and smells more like a scotch aged in ex-bourbon barrels than a rye whiskey aged in virgin white oak. $15.00
Basil Hayden (10-year-old)
Intriguing spirit that only comes around once a year. The result of the extra aging is a distinct whiskey with big oak aromas along with hints of char and vanilla. Basil Hayden's® trademark spice shines through as the perfect complement to the caramel sweetness and wood flavors, making the whiskey a memorable one for fans and newcomers alike. $18.00
Michter's
A lovely aroma of baked goods is front and center with vanilla, cinnamon, apples and brown butter almost making you believe that a piece of streusel in front of you. The sweetness is complete with loads of caramel too. $13.00
Russell's Reserve
Distiller (Wild Turkey/Austin Nichols Distilling Co.) Mash bill: 75% corn, 13% Rye, 12% malted barley. Cask: new charred oak. A menage-a-trois of toffee, vanilla & spice sticks having been around for a while, bat it fades there is a crème de Noyaux-type flavor though much less sugary $12.00
Bookers Uncut & Unfiltered
A very complex and intense nose that runs from oak, leather, caramel, and hints of fruit and continues onto the tongue with a very pleasant burn that gives way to more leather, oak and vanilla and spice. Long finish. $35.00
Widow Jane
10-Year-Old Straight Bourbon Whiskey. Classic Bourbon scents with corn, oak and vanilla with a hint of apples and raisins. Sweet on the palate with flavors of corn, vanilla, orange, and cherry. $14.00
Woodford
Rich, chewy, rounded, and smooth with complex citrus. Finish is silky smooth, almost creamy at first with a long, warm satisfying tail. $13.00
Weller Reg
Hints of apple, caramel, honey, and a dab of vanilla. A light oak aroma also mixes in. Overall sweetness envelopes the whole package. The wheat grain makes this bourbon sweet and a very pleasant sip. $13.00
Weller Antique 107
The original wheated bourbon Antique 107. The brand is named after William Larue Weller, a distiller who is credited by some as the first one to use wheat as the secondary grain in straight bourbon. Aromas of lush dark fruit burst forth from the glass and combine with vanilla and caramel. $13.00
Willet Pot Still
The palate for Willett Pot Still Reserve bourbon starts with notes of citrus, caramel and pepper. In the mid-palate, the citrus notes subside and the caramel and pepper notes blend with a hint of dry oak. $13.00
George Dickel Rye
A little hot and very spicy. Clove and cardamom pop first and then a bed of cinnamon, oaky vanilla, pine sap and apple cider vinegar. Medium-bodied. Somewhat hot with a cinnamon-flecked burn that slowly mellows into marshmallow, wood polish, orange peel, cherry syrup, and apple compote. $12.00
Old Forester
Spicy & Robust. Bottled at 100 Proof to maintain its distinct character & full flavor. Handpicked from select barrels, Old Forester® 100 Proof is a rich & complex bourbon. $11.00
Sazerac Rye Whiskey
Fruit flavors comprised of sweet apricots, orange peel, and plums meet more traditional notes of caramel & vanilla. Light barrel char tease in the background, along with a mix of raisin & anise underneath. It has a light body and at 90 proof. $12.00
Rare Breed Barrel Proof Rye
Scents of caramel and toffee combine with bright orange zest and light citrus. Seasoned oak adds depth and hints towards the older bourbon in the blend. $14.00
Old Forester 1920 Prohibition Style
Strong cherry and dark fruit notes. Dominate the nose and some light notes of caramel and seasoned oak linger underneath. $13.00
Bardstown Infusion
Baked apples with toffee, walnut. And cinnamon lead to luscious maple with vibrant spice. $14.00
American Highway Reserve
Slight peach fruitiness and a bit of anise and cinnamon spice. There's also substantial oak, with a quality that splits the difference between older oak and younger $17.00
Wilderness Trail
A mix of vanilla caramel, and mild oak make up the nose with ever-slight hints of wildflowers. The bourbon tastes of leather, pecans, burnt vanilla, and astringent oak. $13.00
Maker 46
Very intense flavors; a big crescendo of wood blending perfectly with deep, complex, and rich notes of vanilla and caramel. $13.00
Woodford Reserve 199.8 Proof
A Complex medley of rich tea leaf, oak and dried leather notes are underpinned by delicate hints of peppermint and fresh cedar. $22.00
Templeton Rye
Aromas of crème caramel, Candied orange peels, figs and sultanas mingle with delicate notes of nutty Oloroso sherry. Rich, oily mouthfeel with tropical fruit and exotic spices complimented spectacularly milk chocolate and walnuts $14.00
For our Tequila Lovers
The taste of tequila will vary depending upon where the agave was grown as well as the type of tequila. Blanco tequilas offer the purest taste with an earthy, semi-sweet flavor that is distinctly agave. Tequila made in the lowlands is fruitier and earthier while tequila from the highlands is greener and brighter. Tell your server how you like it – neat, rocks or margarita.
---
Herradura Extra Añejo Selección Suprema
Flavor / Taste / Palate. Full body and oily with notes of loam, more spices and warm piñas. The finish is nice and long, dry with clove. $35.00
1942 Don Julio Tequila
Aromas are a combination of butterscotch, dried grass, and old wood. On the palate, the tequila is full and creamy with white pepper, mint and cinnamon joining in on the sweet caramels. There's a slickness that stays with you and helps to cushion the alcohol. $27.00
Pintoresco Extra Añejo
Smooth and complex, subtle notes of toasted oak, sweet agave, caramel, and vanilla. 100% Blue Weber Agave. $17.00
Azulejos Añejo Picasso Bottle
Made from 100% blue weber agave from both the highland and lowland regions of Jalisco. $14.00
Perfección Inmaculada
Cooked agave, nuts, almonds, chocolate, vanilla, dried fruits, and fine oak. Flavor: Intense oak flavor combined with cooked agave, almonds, nuts, and vanilla. $15.00
Don Elias Extra Añejo
Nose deep aroma of roasted agave, along with scents of vanilla and light citrus, particularly grapefruit. Palate: Flavors of dried fruits, cinnamon, and eucalyptus. $14.00
Don Julio Añejo
On the nose, vanilla and caramel are enlivened by a hint of spice and underpinned by cooked agave. The palate is extremely pretty (in only the best way) with honey and agave nectar added to the mix, along with lashings of pepper. The finish is consistent, though oddly less persistent than the blanco–perhaps due to its suavity. $14.00
Patrón Añejo
Is a very good, rich agave with notes of oak, caramel & cedar, while notes of tropical fruit, herb & spice add complexity. Patron Añejo Single Barrel Select, 2016 is an outstanding agave aged 2 years, adding notes of caramel & citrus. $13.00
Cazadores Extra Añejo
The most aged of Tequila Cazadores, Extra Añejo spends at least 3 years in new American oak barrels, creating deep gold liquid, vanilla flavors and notes of cinnamon, roasted apples and nutmeg. Enjoy the Extra Añejo neat. $12.00
Gran Patrón Platinum
On the nose the tequila releases rose petals, Turkish delight, very clean agave with notes of Caramel, pepper, Chinese five spice, lemon, and tangy citrus. Overall, Gran Patron Platinum is a super smooth tequila with an underlying sweetness that softens the agave & spice. $28.00
Don Pilar Añejo
Nose is toasty oak, fruit, and butterscotch. A round lush palate layered with pineapple, chocolate and baked agave. $13.00
KAH Añejo
Full-bodied & viscous, this aged Añejo tequila has agave, chocolate, tobacco, and coffee Notes, along with a prominent sweetness. $14.00
Don Julio 70 Cristalino
Bright crystalline silver shades. Aroma is fruit like guava and lime tones, an intense cooked agave, vanilla, and caramel. The taste is smooth and complex. $13.00
Casa Dragones Blanco
Fresh and herbaceous with notes of grapefruit and green apple. The taste is unique with a balance of semi-sweet notes of agave warmed by hints of pepper and cloves. $13.00
El Santivo Blanco
Exceedingly bright and fresh, with lots of juicy pink grapefruit & lightly resinous notes, along with some salt, minerality and sweet agave. $11.00
1800 Cristalino
Buttery agave with a crack of black pepper, caramelized raisins and almonds, a touch of oak warmth, subtle vegetal salinity (think green bell pepper and lemongrass). $13.00
Teremana Tequila
Tequila Blanco. It's fresh and herbal on the nose with obvious agave, as well as some citrusy and earthy notes, vanilla, and a hint of peppery spice. There's more agave, vanilla, and lemon zest on the palate, making it delightfully crisp. $12.00
El Mayor Reposado
Smooth, round entry followed by a dryish, medium body with perfumed fruity agave, vanilla, spice, and caramel. The finish is smooth and balanced with fruity, perfumed spice.$12.00
El Padrino Reposado
(94 point beverage testing institute). Mexico- Brick ovens roast the 100% blue agave for 36-42 hours, allowing the tequila to retain its sweet, natural mellow flavor. Slow-fermented and then distilled in copper-rimmed pot stills for rich, natural hints of vanilla, coconut, caramel, and oak notes. $12.00
Paqui
Oaky tannings, licorice, clove, butterscotch flavors. Finishes with a little sweetness and lingering oak. $14.00
How about a spicy margarita? Try it with Tanteo Jalapeño tequila Excellent quality tequila tastes – sweet savory notes, lime citrus with salt – slight alkali tang and touches of leather – followed by a curtain of jalapeno pepper rolling across your tongue and palate almost immediately and about a minute for it to go away. $13.00

Tequila Maestro Dobel 50 Cristalino
Candied aromas and flavors of caramel apple candies, cherry preserves, pineapple smoothie hazelnut crème, vanilla gelato, and rainbow sherbet with a satiny, crisp, fruity light-to-medium body and a graceful, stimulating, medium-length finish with notes of frozen cappuccion. $20.00
Dragons Añejo blend (100% blue Agave)
Light caramel, with bright hues and pronounced legs. Long round finish notes of cacao spicy black pepper. Fresh floral, pear with notes of figs and almonds. $20.00
Siempre Tequila Añejo
Notes of chocolate, toffee, salted caramel, black peppercorn. Honey and vanilla. On the nose, vanilla and caramel are enlivened by a hint of spice and underpinned by cooked agave. $13.00
Remember that we also get some other liquors from agave. Not just tequila but also some wonderful and smoky Mezcals. We have couple of good ones and are well known by Mezcal lovers.
Avion 44 Extra Añejo
Mint with a citrusy and fruity taste and a pinch of anise (licorice) and smoke. It's crisp, silky and has a smooth mouthfeel. Age 36 months in American bourbon Barrels. $21.00
Dulce Vida Extra Añejo
The nose is classic, well-aged tequila-all caramel butterscotch and Mexican chocolate notes, On the palate, it's a much bolder, racier tequila than many extra Añejo tend to be. $20.00
Aman Reposado
Fresh notes of basil and mint on the nose with abundant fruit touch of vanilla and cooked agave give way to oakiness. $13.00
Patron Collection Sherry Cask Aged Añejo
Characterized by its crystalline, medium gold color and its aroma and teste of caramel vanilla, clove, walnut, and dried fruit. $15.00
Don Pilar Extra Añejo
Medium bodied and somewhat oily. Lots of oak here, some cooked agave, and more whiskey. Some cinnamon and baking spice, and honey. $21.00
Los Vecinos Del Campo Mezcal
Earthy, briny with the added tang of menthol and grilled and charred peaches. Tastes lively, light, slightly smokey with a great sweet/acid balance and just a touch of rusticity. Appetizing, lip-smackingly so with plenty of white pepper spiciness and an admirable bitter/sweet finish. Outstanding. $11.00
Bosscal Damiana: 100% Organic Bosscal Joven
The palate shows citrus-particularly orange and blood orange across the balanced, lightly smoked palate.$11.00
Please Notify Your Server of Any Food Allergies
20% gratuity to be added to parties of 5 or more
Specials
DOLCE
CHOCOLATE MOUSSE CAKE 8.25
Two-layer chocolate mousse cake with caramel sauce
ANTIPASTI
TORTE DI GRANCHIO 19.95
Large Dungeness crab cakes served with homemade tartar sauce
PASTA
LASAGNE PASTICCIATE 28.95
flat pasta layered with beef, pork, sausage, plum tomatoes, mushrooms, béchamel & parmesan, mozzarella, & ricotta cheeses
LINGUINI al FRUTTI di MARE MISTI 33.95
small flat pasta filled with tomatoes, fresh fish, clams, jumbo shrimp in a lobster stock sauce
PESCE
Always fresh & hand-cut in-house & subject to availability
*Delicious house-made tartar sauce available*
Suggested Pairing: La Lomita Albariño, 2019 Aromas of lively citrus & orchard fruit with floral nuances
TROTA IRIDE 29.95
fresh grilled rainbow trout with sautéed spinach, mushrooms, cherry tomatoes & garlic
SANDDABS 32.95
Fresh filet lightly breaded sautéed in lemon butter sauce with green beans & risotto
PACIFIC RED SNAPPER PARMIGIANO 36.95
filet of snapper dusted with parmesan cheese & breadcrumbs, grilled & served with house-made tartar sauce, vegetables with French fries OR risotto
PACIFIC RED SNAPPER A LA VERACRUZANA 36.95
Grilled filet of snapper covered in a Veracruzana sauce prepared with tomato, olives, capers, cilantro & jalapenos served with vegetables, French fries OR risotto
SALMONE alla GRIGLIA 38.95
Loch Duart Scottish salmon filet grilled & served with risotto & gremolata topping
CARNE
Suggested Pairing: Frank Family Vineyards 2018, Napa Valley Cabernet Sauvignon
POLLO CACCIATORE 32.95
Seared and roasted chicken topped with our Belle Glos Pinot Noir reduction sauce and served with garlic mashed potatoes & green beans
BISTECCA alla GRIGLIA 58.95
grilled bone-in Ribeye steak hand-cut (22 oz) with scrumptious French fries
BRACIOLE DI MAIALE alla GRIGLIA 35.95
Grilled double-cut bone-in pork chop brined in house recipe for 48 hours with a port wine reduction sauce – cooked medium rare juicy (pink center) & served with a baked apple & roasted mashed potatoes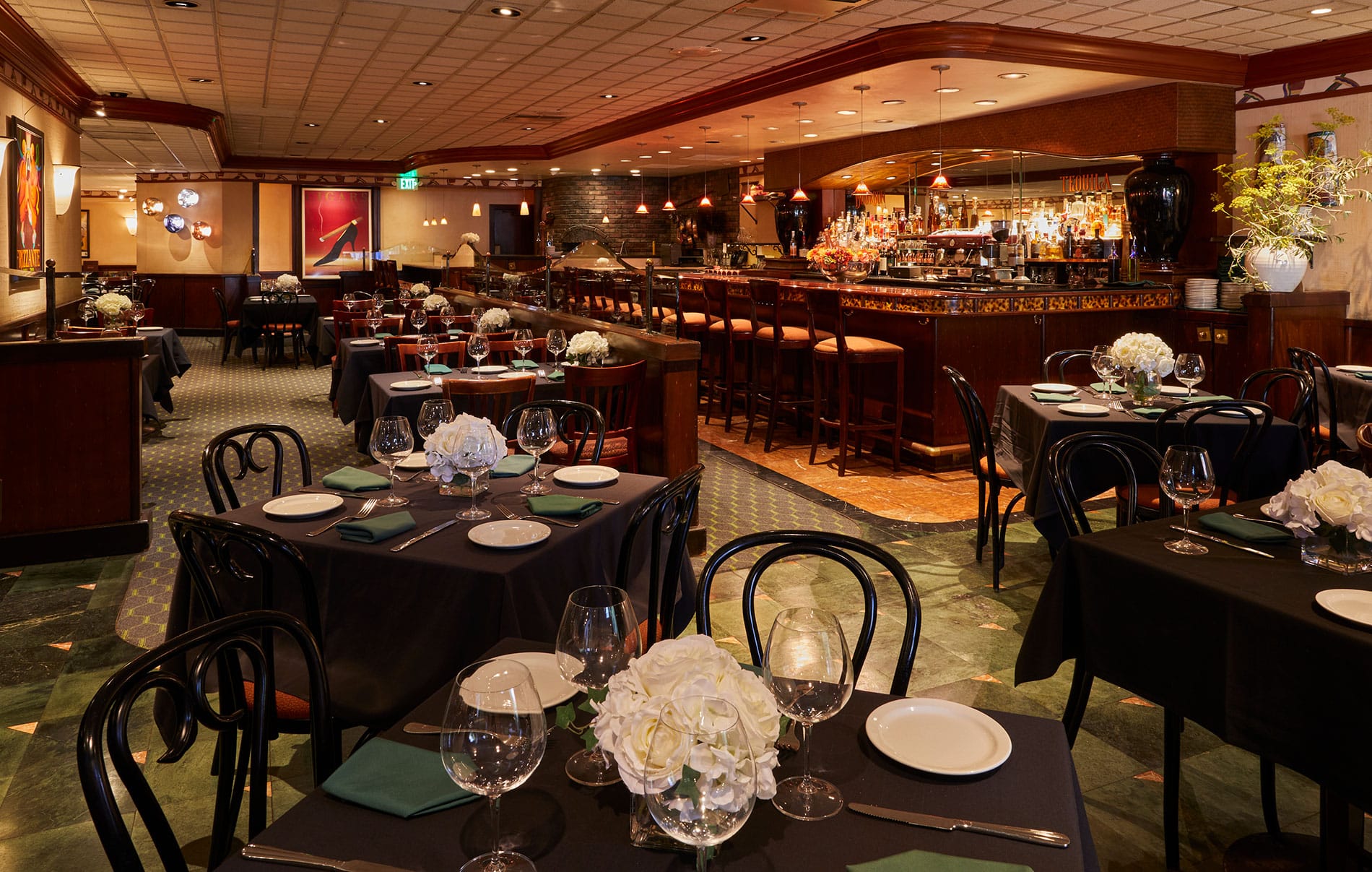 Carpaccio welcomes you into the warm and dramatic award-winning interior by designer Pat Kuleto. The professional and friendly bartenders, energy-charged atmosphere and extensive collections of bourbons, tequila, wine and beer keep our customers coming back. The energetic and welcoming atmosphere is perfect for evenings with friends, family and business associates.
Carpaccio offers an array of seating options, including window tables. When the weather is pleasant the window walls recede and diners in this area enjoy the open-air garden ambiance.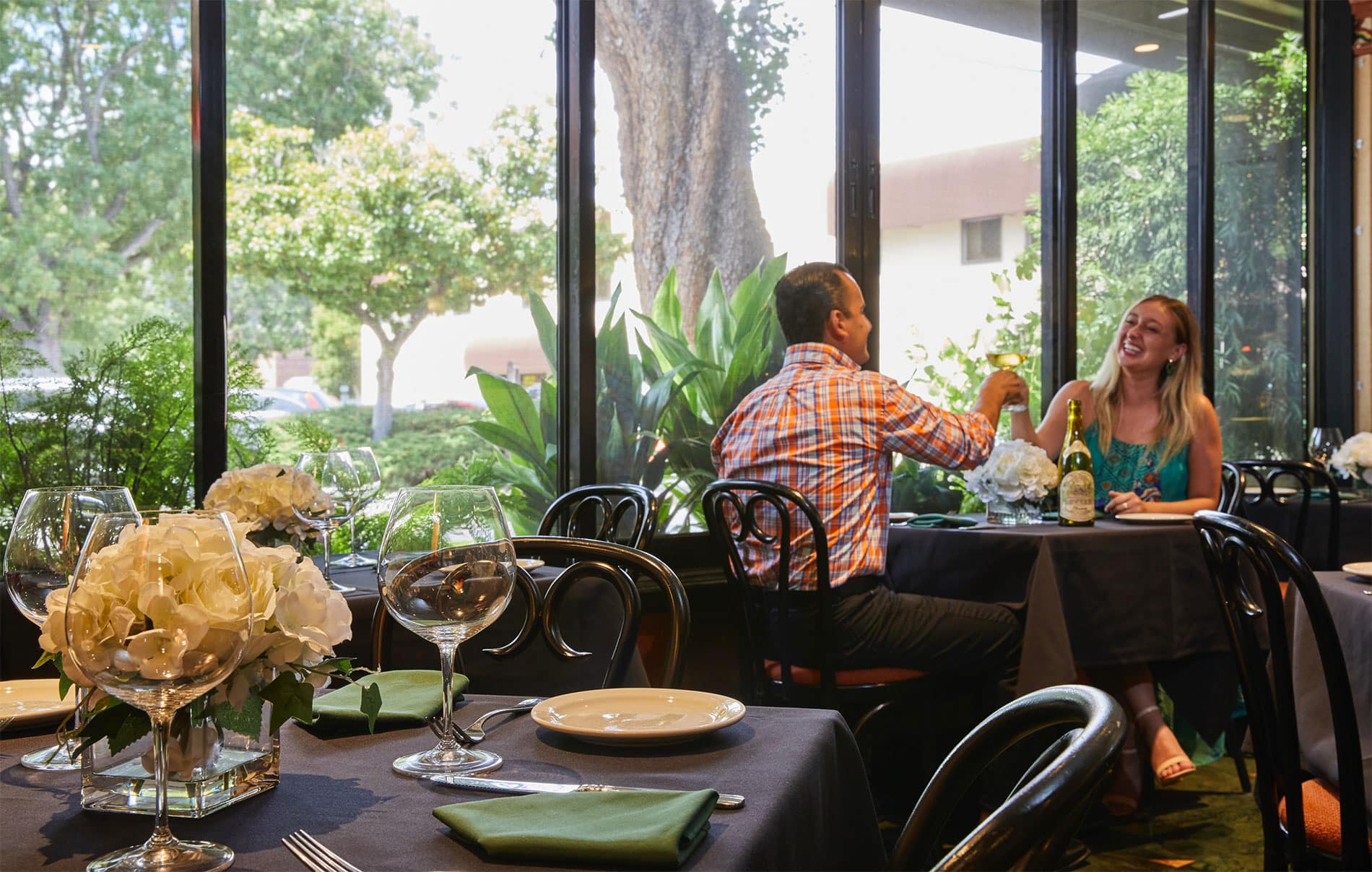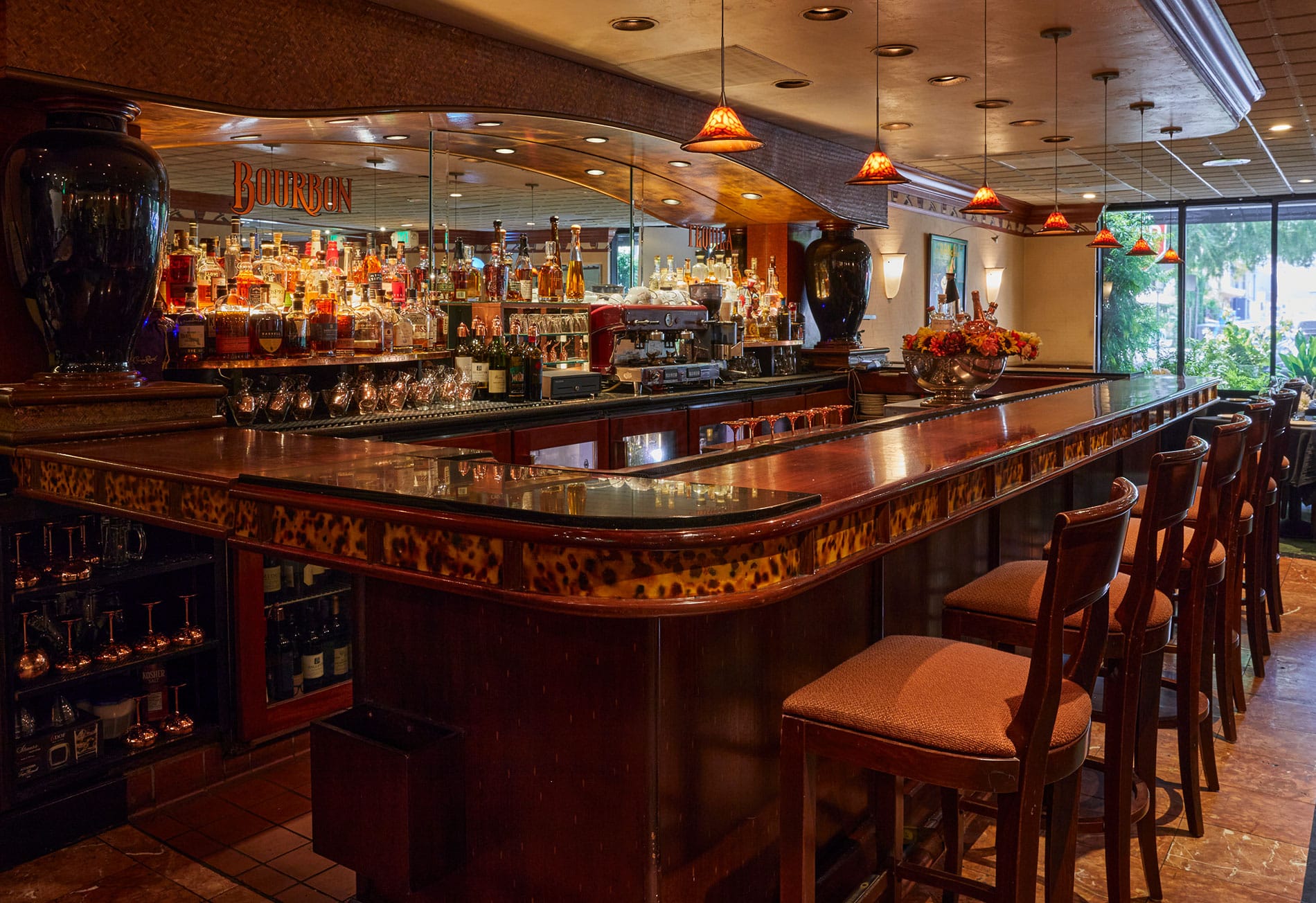 Carpaccio's full-service bar is a noted Peninsula meeting place for after work or any time. The professional and friendly bartenders, energy-charged atmosphere and extensive collections of bourbons, tequila, and wine keep our customers coming back. The bartenders will know your name and your favorite drink, which quite possibly will be our unique martinis served in copper glasses with our famous large pour sidecar. And, did we mention the prices are likely to be the most reasonable in the area? This is the place to see and be seen.
The seating along the chef's corner with its dramatic wood burning oven gives selective diners a unique opportunity to view culinary creativity close up. Our beautiful and dramatic central area offers both banquet and table seating. It's the perfect place for both larger parties or business meetings. The intimate back section lined with mirrors is a favorite dining destination for patrons desiring intimate dinners, medium- to large-size dinner parties or small business meetings.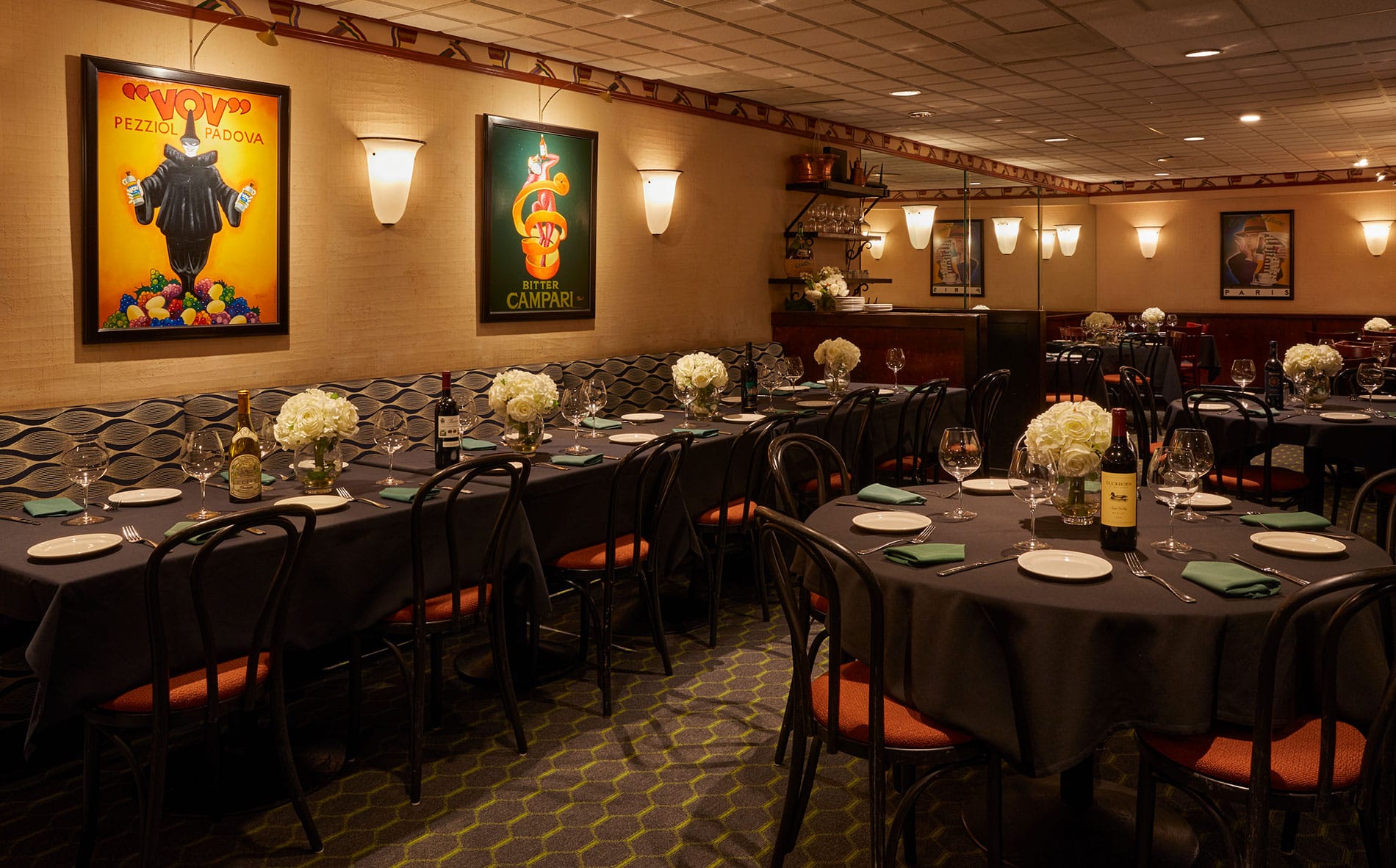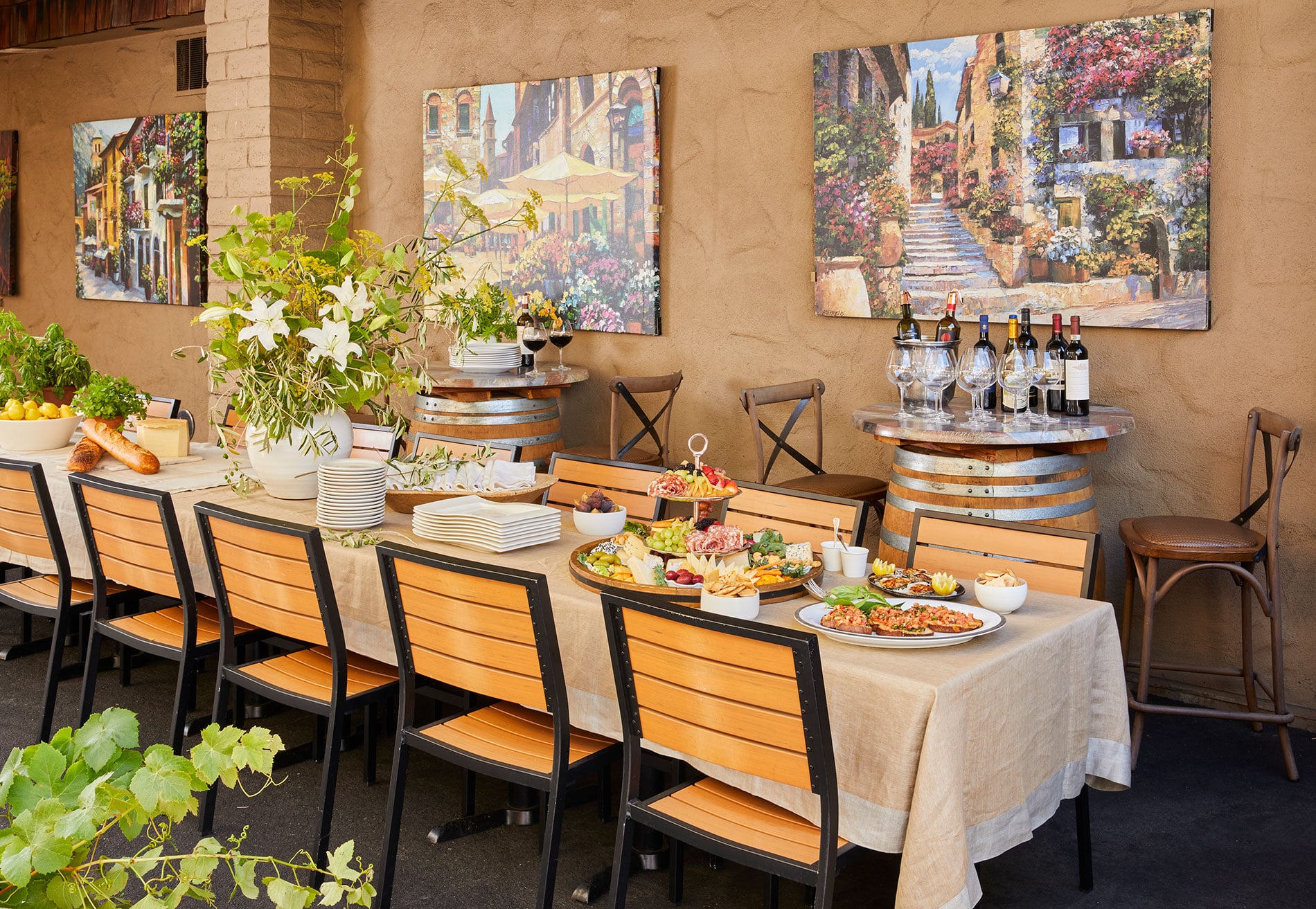 Carpaccio's Alley dining allows you to enjoy the fresh air as you enjoy fabulous Italian cuisine that satisfies the strongest cravings. Alley dining accommodates any size reservation or parties up to 40 or 45 guests depending upon seating requirements. Enjoy European artwork, overhead awnings & lighting, planter boxes with beautiful plants and flowers, as well as heaters when the evenings are cool. The entire Alley may be reserved for special events. This open air dining experience is one you'll be glad that you chose.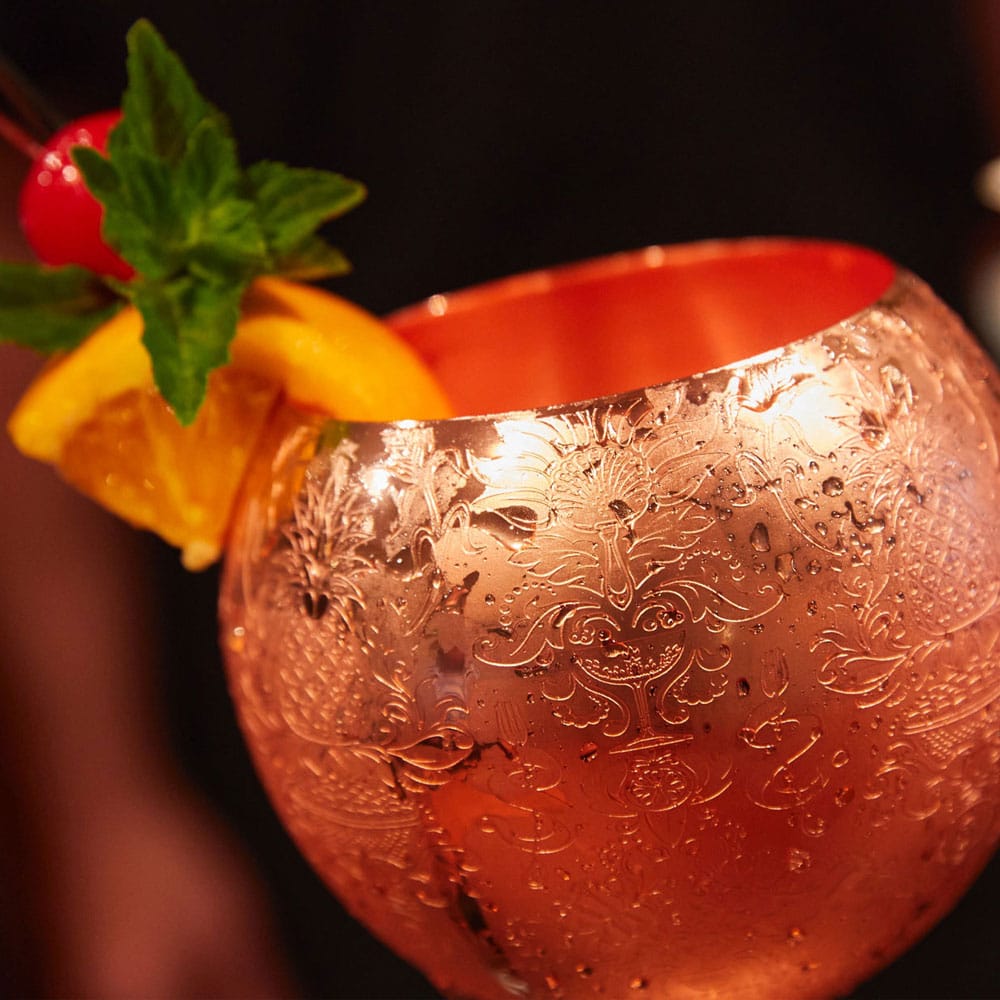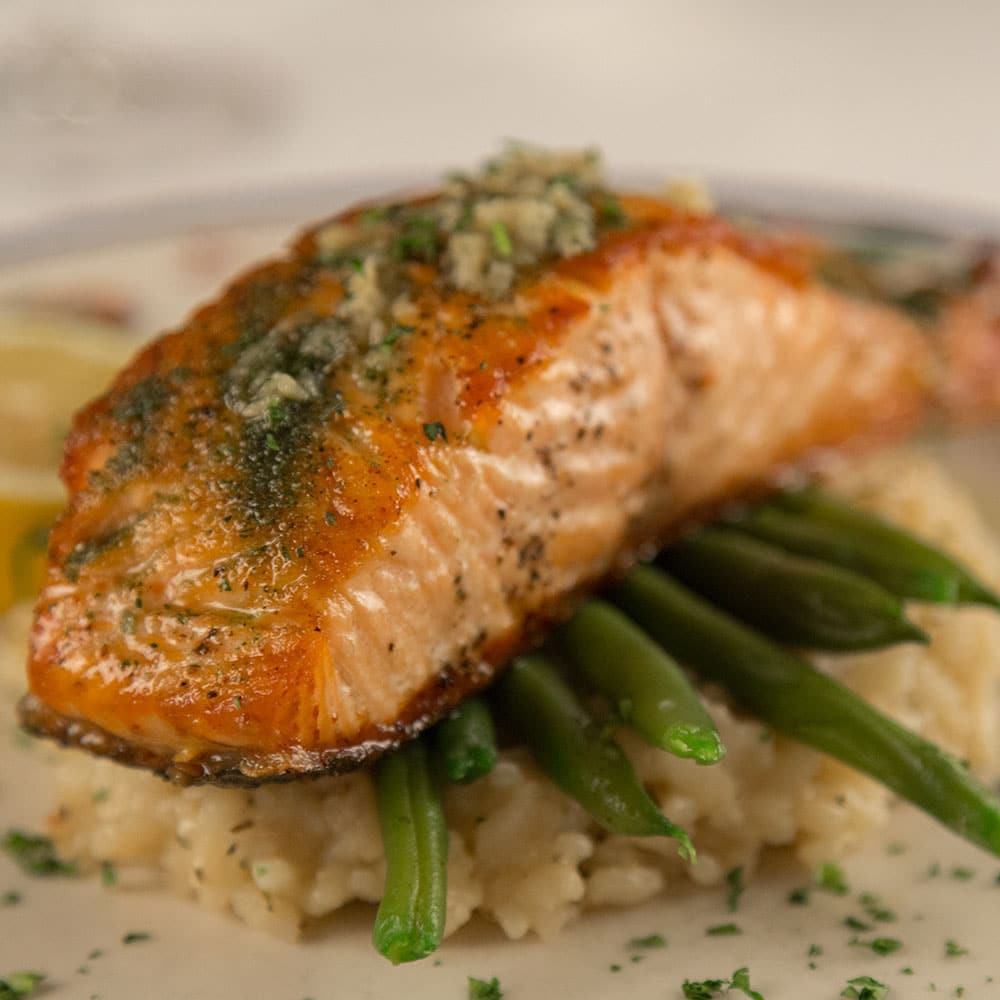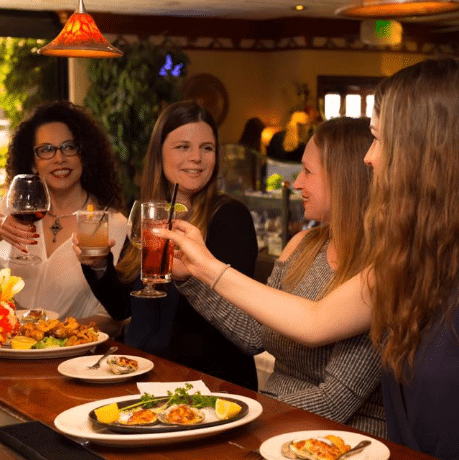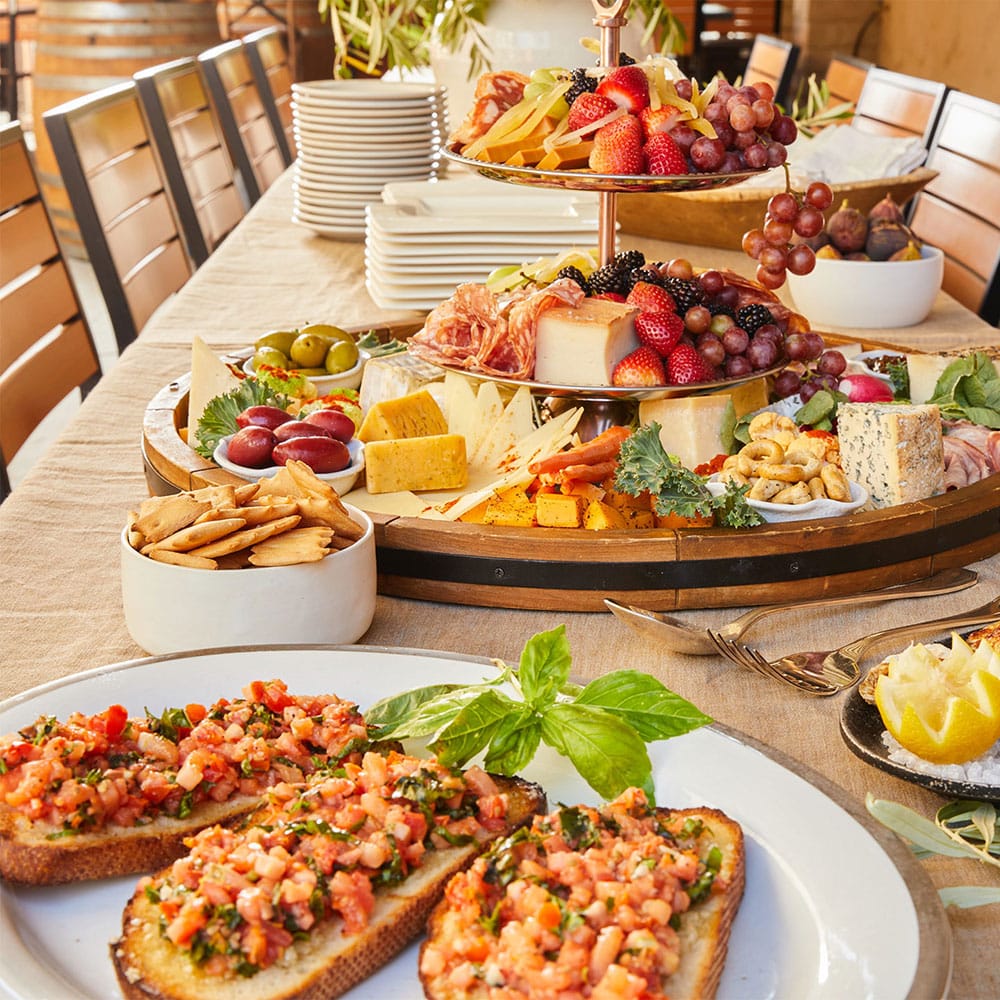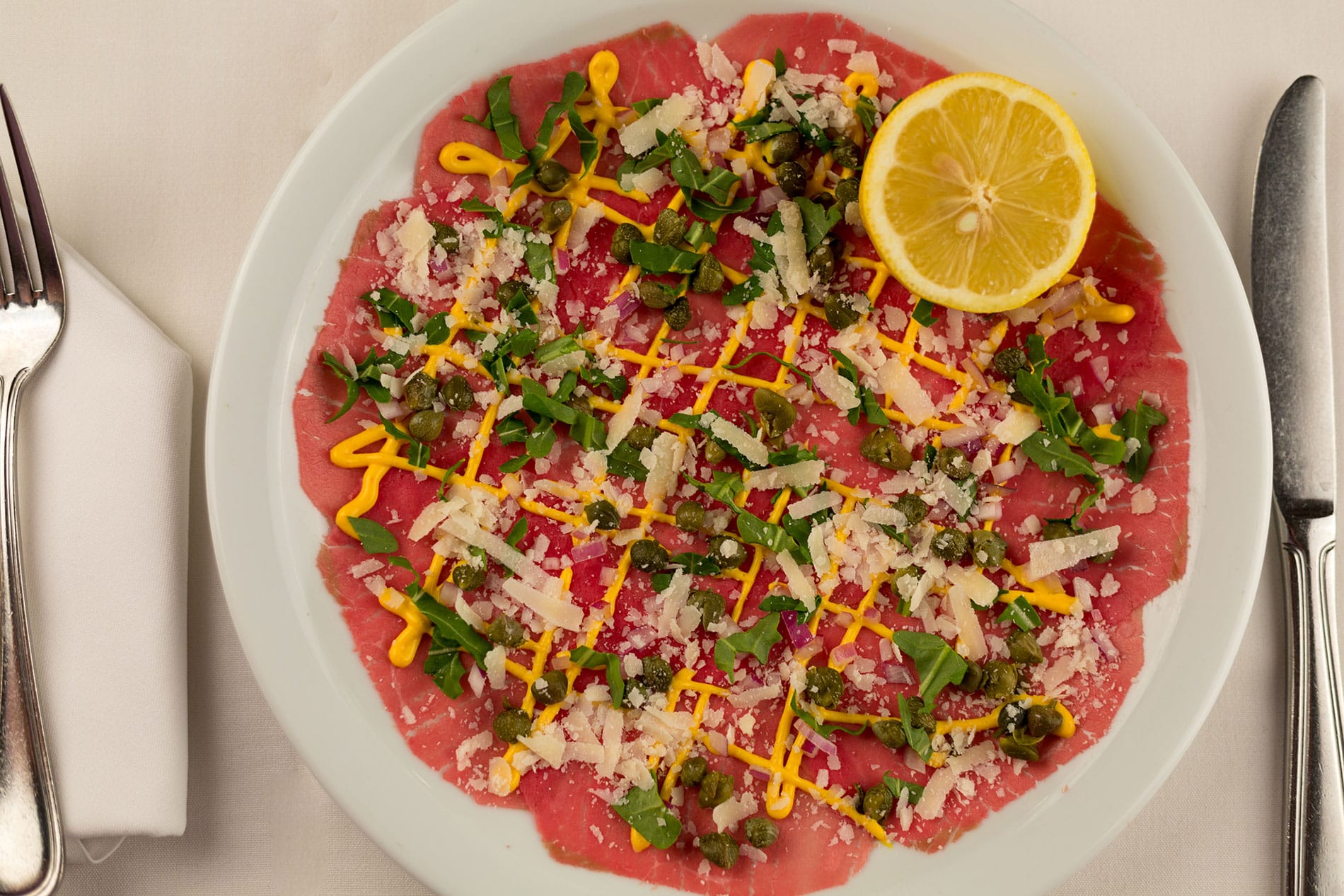 Carpaccio is an Italian dish of meat or fish, thinly sliced or pounded thin, and served raw, typically as an appetizer. It was invented by Giuseppe Cipriani from Harry's Bar in Venice, Italy. Customers tell us they try carpaccio at other restaurants but ours is the best.